2002: $12,000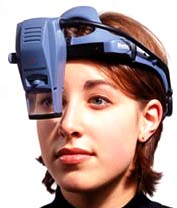 2004: $4,000


2006:


In the early days of the scanned beam display, huge racks of expensive gear that filled an entire room were required to control the light sources and the scanning mirror. The cost of the entire apparatus was enormous and the size was gargantuan. Over the years that Microvision has been developing the technology, the performance for dollar of the display engine has exploded -- what was once a multi-million dollar set of dedicated equipment is now a relatively straightforward repeatable process that results in a lightweight, wearable display with an integrated WiFi computer.

On a linear scale of price/performance, starting at 2002, we can see that we have shrunk the cost of Nomad by 66% every two years, going from $12,000 to $4,000, while including additional value in the form of the improved form factor and wireless computer.

Looking out to 2006, a continuation of that progress curve brings us to a see-through device that will cost $1,333, have a further improved/miniaturized form factor, probably full color, and additional capabilities and improvements in the on-board computer.

It is reasonable to believe that, given effective marketing, customer focus and application infrastructure, a full color Nomad for $1,333 would be a blockbuster product in a way that a $4,000 monochrome red Nomad has not yet been.

The exponential gains in price/performance that Microvision has achieved developing the scanned beam technology have not yet translated into exponential gains of shareholder value. The question to ask is, how long will that be the case? At what price point and in what configuration does the product begin to have mass appeal?

What types of software will become killer apps for an entirely new modality of computing? What types of form factors will prove so sexy and irresistable that no 'geek stigma' can withstand the customer's lust for the product and the new capabilities the product enables?

And of course, the question is when will we create a product, or have someone else create a product with MVIS-inside, that truly resonates and meets significant needs in the marketplace?

Following the development progress in a linear curve, we see a $1,333 Nomad in 2006, a $444 Nomad in 2008 and a $148 Nomad in 2010. We also have computer power doubling every 18-24 months, wireless bandwidth doubling at a similar rate. A push towards equating the mobile computing experience with what we come to expect from a desktop or notebook computer. There are a lot of forces converging to create a world of 'information everywhere'. Billions and billions of dollars are at stake to bring this world into existence.

There will come a moment when the shareholder value creation goes exponential to match the development progress of the underlying technology. It hasn't happened yet. The bet on the company says that it will. I can not understand anyone betting against the company in the face of exponential gains in price/performance, exponential gains in macro forces in technology that we co-opt and include in our product offerings and that provide the infrastructure to support the ubiquitous scanned beam display -- MVIS-inside devices owned by hundreds of millions of people around the world.

In 2005, it hasn't happened yet. Following the curve of progress gets us to an $148 see-through, full color scanned beam display with a sexy form factor and a sweet on board computer in the next 5 years.

That's what this is about. Put those exponential gains in progress to work on your behalf. Let the inexorable macro forces of change take you to another level. Participate in the process of changing the world.

0 comments: