Microvision Launches Three Connectivity Bar Code Scanning Products for Mobile Devices and Desktop Computers
Get link

Facebook

Twitter

Pinterest

Email

Other Apps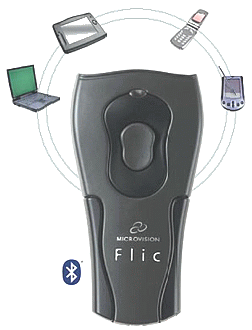 Microvision Launches Three Connectivity Bar Code Scanning Products for Mobile Devices and Desktop Computers
Flic Scanner Software Enables Simple and Affordable Bar Code Scanning on Windows, Windows Mobile, and BlackBerry Devices

REDMOND, Wash.--(BUSINESS WIRE)--Aug. 22, 2006--Microvision, Inc. (NASDAQ:MVIS - News), the world leader in the development of scanned beam high-resolution displays and imaging systems, today announced the release of three software products for its line of hand-held Flic Laser Bar Code Scanners. The software products allow users of the Flic Scanner and Bluetooth enabled Flic Cordless Scanner to capture bar code data directly into a variety of business and consumer household applications running on Windows, Windows Mobile handheld and BlackBerry handheld devices, thus providing a simple and affordable solution for bar code data capture. The newly released products; Scanner Wedge for Windows, Scanner Wedge for Windows Mobile, and Scanner Wedge for Blackberry are available through Microvision's reseller and development partner channel or via the web at www.flicscanner.com.

"Microvision's bar code business is growing at a solid rate due to our delivering an affordable, quality product for our customers," said Ian Brown, Vice President, Sales and Marketing at Microvision. "We continue to invest in Flic software connectivity options so that developers of enterprise solutions as well as individual users have the necessary tools to add simple and affordable bar code scanning to their data capture applications. For example, developers can use Scanner Wedge for Blackberry to enter data into a mobile forms application that they can customize to do supply chain management on an enterprise level. Individual end users can use Scanner Wedge for Windows Mobile to scan bar code symbols from their book or media collection into a spreadsheet application for personal asset management on their windows mobile device.

"As bar code applications continue to grow more prevalent, specifically in the mobility market, and our customers require the benefits of seamless and flexible connectivity between the Flic scanner and mobile computing devices, the Scanner Wedge software provides a valuable new product offering to our growing data capture business."
Get link

Facebook

Twitter

Pinterest

Email

Other Apps